Wall Street is starting to love Florida Gov. Ron DeSantis's prospects in the 2024 presidential election so much that it is already eyeing stocks that will benefit, as well as those that could tank, if he wins the White House.
Strategas Research Partners, an economic and market advisory firm run by the well-known market analyst Jason Trennert, is among the firms gauging the market impact of a DeSantis presidency, with a client report titled "DeSantis Winners & Losers Baskets." 
The report, published last week, was obtained and reviewed by Fox Business. It bases its research primarily on DeSantis's policy positions as governor of Florida. It is yet another indication that major financial players are betting that DeSantis runs for President in 2024, can beat former President Trump in the GOP primary, and beat Joe Biden in the general election.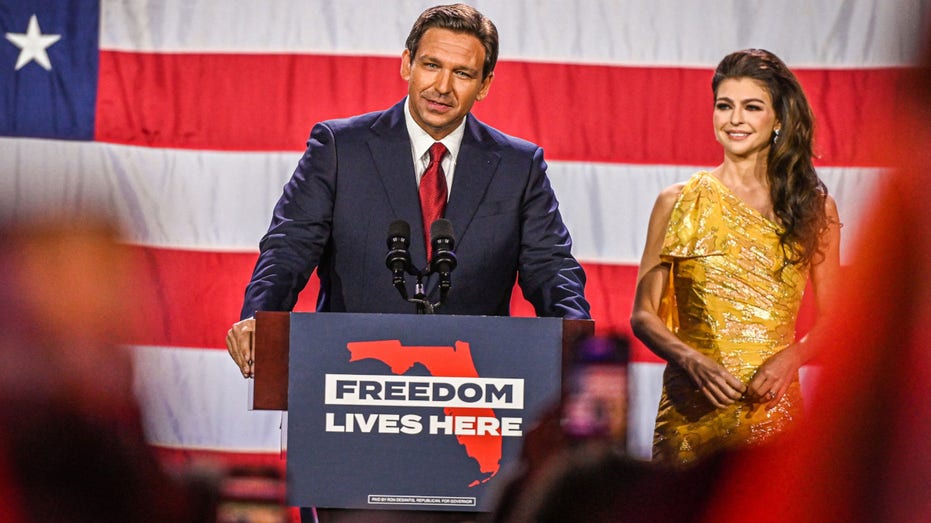 It's also a sign that Wall Street thinks there will be market implications with a DeSantis victory given his record as Florida governor. According to the report, stocks it identifies as DeSantis winners are already outperforming those it identifies as DeSantis losers.
DESANTIS WARNS OVER CHINA REAL ESTATE INVESTMENTS: 'GOBBLING UP LAND' NOT IN FLORIDA'S BEST INTEREST
The report added that DeSantis is a slight favorite in the betting odds to win the Republican primary against Trump. "After DeSantis' landslide victory in Florida, client interest about a DeSantis candidacy has increased, particularly around company risks and opportunities," the report said. "This makes sense, with DeSantis having non-traditional Republican policies."
"We expect President Biden to announce his candidacy following his State of the Union on February 7th," the report stated. "Former President Trump was out campaigning this past weekend. Nikki Haley will likely announce her candidacy in two weeks, and Florida Governor Ron DeSantis is indicating he is likely to get in the race."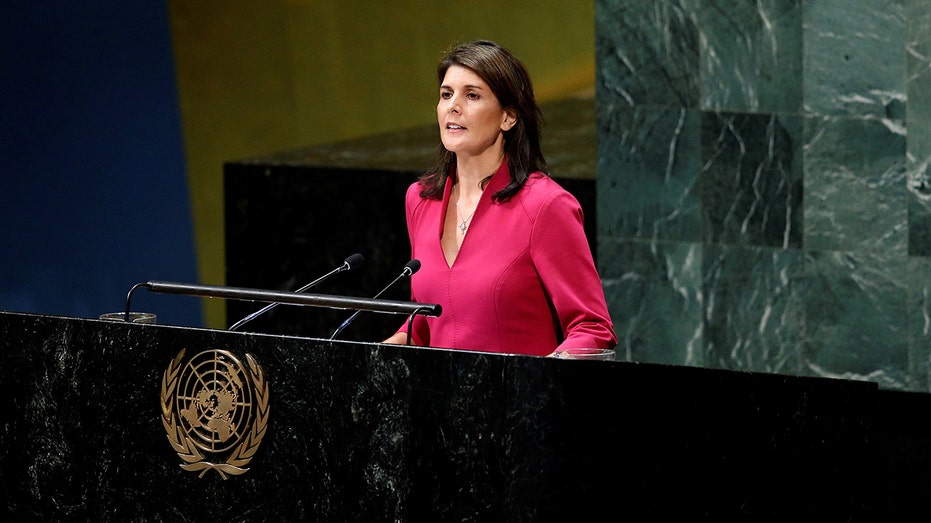 Financial advisers who have read Strategas research urge caution about making big market bets based on the report. First, while certainly considering a presidential run, DeSantis has yet to declare. In recent weeks he has been meeting with enthusiastic financial industry fundraisers, who believe he can beat Joe Biden or any other Democrat, while Trump can't. The former President remains mired in various scandals and his reputation tarnished by his role in the January 6 riots.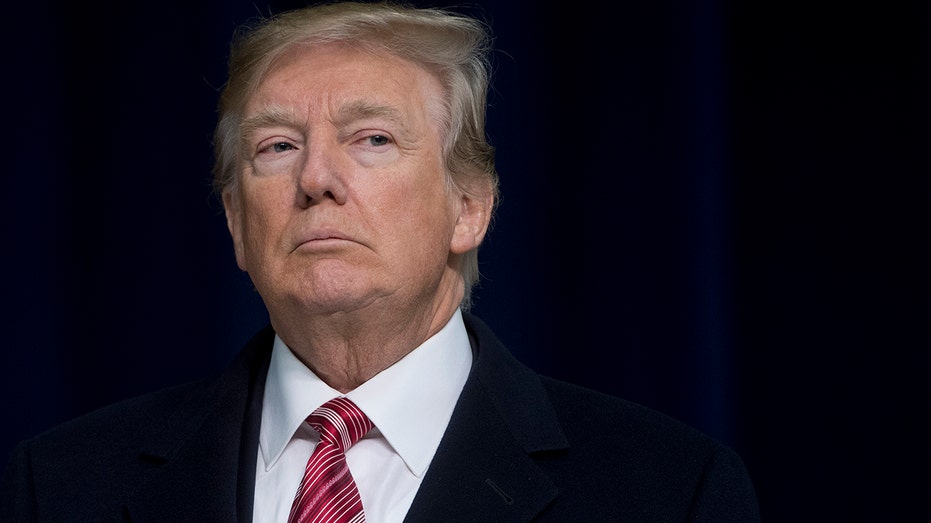 STUART VARNEY: FLORIDA'S GOV. RON DESANTIS LOOKS LIKE A FUTURE PRESIDENT
But as Fox Business has reported, DeSantis has told donors it's not his preference to get embroiled in a nasty primary battle with Trump for the GOP nomination, raising some doubts he will challenge the former President in a primary. Trump is the only GOP candidate to formally announce his intentions, and has already been targeting DeSantis with his well-known vitriol.
Also, financial advisers say some of the report's conclusions are nebulous. Energy company ConocoPhillips is a DeSantis "winner" because of the Florida governor's support of drilling of "fossil fuels like natural gas and crude." DeSantis is likely to reduce regulations that have curtailed drilling. 
But oil company profits have been soaring amid restrictions the Biden Administration has placed on the industry and its embrace of Environmental Social Governance investment mandates that are designed to reduce carbon emissions by restricting supply. The result has been an increase in energy prices, profits and soaring energy-company stocks. Since Joe Biden took office in January 2021, shares of ConocoPhillips have more than doubled to $108 per share, far outperforming the Standard and Poor's 500 index of large company stocks.
Moreover, DeSantis's market-related policies may not deviate much from Trump who during his four years in office where the former President cut taxes, reduced regulations but also picked fights with big businesses like Amazon founder Jeff Bezos, who owns the Washington Post, and AT&T, which until recently owned the left-leaning CNN cable network. 
DeSantis has famously feuded with Disney over its attacks against a state law that bans teaching sex education to toddlers. Strategas places Disney among the 19 DeSantis "loser" stocks. 
That said, the four-page report is a sign that Wall Street increasingly believes DeSantis could win the White House in 2024, and that clients should begin planning their portfolios to benefit from his policies.
Likewise, they should avoid and "short" or bet against stocks that will face DeSantis related headwinds, or those Strategas includeed in its "DeSantis loser basket." These are companies that Strategas says adhere to "woke," corporate policies, like the aforementioned Disney. Other companies in that basket include "vaccine makers," those that embrace so-called Environmental Social Governance or ESG investment policies, and those with substantial operations in China.
Ticker
Security
Last
Change
Change %
DIS
THE WALT DISNEY CO.
109.87
-0.84
-0.76%
Recall how DeSantis took on Disney even though it was one of the state's largest employers but lost a major tax subsidy because of its opposition to the sex-ed law by removing its favorable tax status in the state. Strategas says DeSantis will probably use the Disney template nationally against companies that adopt similarly left-wing policies including an embrace of so-called Environmental Social Governance or ESG investing. 
ESG promotes the reduction in the carbon footprint of asset-managers' portfolio companies and other progressive political stances. But these mandates have increasingly come under attack from GOP elected officials who say it has led to higher gas prices and pushes a left-wing political agenda.
As governor DeSantis has recently targeted BlackRock, the world's largest asset manager that has been at the forefront of ESG, pulling $2 billion in state money that was being managed by the firm. Strategas sees additional national regulations curtailing ESG if DeSantis gets elected. Because ESG investments often charge higher management fees than other stock-picking methods, BlackRock becomes a "loser" as those new regulations could depress profits.
Ticker
Security
Last
Change
Change %
BLK
BLACKROCK INC.
742.38
-14.78
-1.95%
Also on the loser list is Amazon and Apple, two corporate whipping boys of the right because they're seen as woke Silicon Valley enterprises that have stifled conservative speech. Apple, meanwhile, has substantial manufacturing ties to China. Companies with ties to China are seen as "losers" in the Strategas report, given the nation's geo-political ambitions and its role in the Covid pandemic. 
Ticker
Security
Last
Change
Change %
AMZN
AMAZON.COM INC.
102.18
-1.21
-1.17%
AAPL
APPLE INC.
151.73
-2.77
-1.79%
Meta, the holding company for Facebook, makes the loser list as well for censoring conservative opinions. Drug makers Pfizer and Moderna become DeSantis losers as well; Strategas sees a DeSantis administration as far less draconian in terms of COVID vaccine mandates, thus these companies will see falling profit margins. His Justice Department may also pursue claims that the companies inflated their efficacy, the report says.
Ticker
Security
Last
Change
Change %
META
META PLATFORMS INC.
186.06
-0.47
-0.25%
PFE
PFIZER INC.
43.76
-0.30
-0.68%
MRNA
MODERNA INC.
170.27
-2.98
-1.72%
The 19 DeSantis winners are stocks in the border security, defense and energy sectors, Strategas said. "We expect DeSantis to be a strong proponent of fossil fuels, but he is not opposed to renewables," the report added. "Other areas where DeSantis could be a positive are financial companies that avoid ESG and could benefit from deregulation."
 Of the latter, the big bank JP Morgan run by CEO Jamie Dimon, who has publicly criticized ESG, makes the list of stocks that will win under a President DeSantis. Defense manufacturers Lockheed Martin and Raytheon Technologies are winners as well because DeSantis is seen as increasing the defense budget.
Ticker
Security
Last
Change
Change %
JPM
JPMORGAN CHASE & CO.
141.92
+0.83
+0.59%
LMT
LOCKHEED MARTIN CORP.
469.10
+10.02
+2.18%
RTX
RAYTHEON TECHNOLOGIES CORP.
97.45
-0.19
-0.19%
CXW
CORECIVIC INC.
10.11
-0.34
-3.25%
SOFI
SOFI TECHNOLOGIES
7.30
-0.10
-1.42%
A company named CoreCivic Inc., that owns and manages private prisons, could see its business expand dramatically — and its share prices soar — as DeSantis focuses on policies to secure the southern border from migrant surges and the company benefits from government contracting.
CLICK HERE TO GET THE FOX BUSINESS APP
SoFi Technologies makes money processing student loans. A possible lift to its business, Strategas says, will be the end of President Biden's student-loan forgiveness program under DeSantis. That means more fees for processing those loans.