Stock Market on Tuesday, 7 February Tuesday: Indian frontline indices S&P BSE Sensex and NSE Nifty50 will open on Tuesday amid a host of local and global cues. Zee Business has collated 10 factors that may have a bearing on how markets move tomorrow.
Monday Market Recap: Sensex and Nifty 50 traded lackluster on Monday and ended with declines. While Sensex close at 60,506.90, down by 334.98 points or 0.55 per cent, the broader market Nifty50 settled at 17,764.60, down by 90 points or 0.50 per cent. The banking gauge Nifty Bank finished at 41,374.65, lower by 125.05 points or -0.3 per cent.
The ebbing in market sentiments was on strong non-farm payroll data reported in the US. Almost 517,000 jobs were added in January far ahead of the street's expectations of 193,000 jobs. This has led to a renewed fear that Federal Reserve will unlikely contemplate on rate pause. Moreover, ISM services PMI unexpectedly surged to 55.2 in January sharply above estimates of 50.5, PTI reported. Unemployment rate declined to 3.4 per cent in January compared to forecast of 3.6 per cent.
10 top triggers for Tuesday
1) US stocks fell: Wall Street appeared nervous ahead of Federal Reserve Chair Jerome Powell's appearance at an event on Tuesday. The event is sponsored by the Economic Club of Washington, DC, Reuters reported. His statement assumes importance in-light of strong jobs data reported in the US. A week-back, Powell had indicated a strong job market even as inflations was off its peak.
All three top indices were trading in the red. Dow 30 was trading at 33,729.50, down by 196.51 points or 0.58 per cent while S&P 500 was trading lower by 38 points or 0.92 per cent at 4,098.49. Nasdaq Composite was trading at 11,858.50, down by 148.50 points or 1.24 per cent.
 Source: NSE
When markets reopen tomorrow, they will take cues from the Monday closing. They will also track Tuesday morning movement in Dow Future and Singapore-based SGX Nifty, an early indicator of movement in Nifty50.
At the time of filing this story, SGX Nifty was trading at 17,787, up by 26 per cent or 0.15 per cent. Dow Futures were trading at 33,822, down by 104 points are 0.31 per cent.
2) Rupee Vs Dollar: US Dollar's strength was the biggest undoing for the Indian Rupee. When markets reopen tomorrow, they are expected to track movement in INR against the greenback.
The rupee fell by 65 paise to close at 82.73 (provisional) against the US currency on Monday, weighed down by gains in the greenback in the overseas markets and a muted trend in domestic equities. Sustained foreign fund outflows and firm crude oil prices further dented investor sentiments, forex traders said and PTI reported.
"Rupee opened weaker by about 60 paise due to higher  dollar  index and  lower Asian currencies. Oil and Gold remained on the down side as dollar index rose further to 103.20," Anil Kumar Bhansali, Head of Treasury at Finrex Treasury Advisors LLP said. 
"Rupee looks a bit vulnerable as oil companies continue with their buying but have a feeling that USD should get sold off at this level as rupee has not gained at lower dollar index. Market now awaits for the MPC meeting which is currently underway and decision will be announced  on 8th February. Range for tomorrow  82.30 to 82.90," Bhansali said.
Currency Markets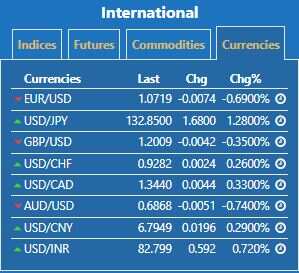 3) Q3 Results 2023: Over 150 companies will announce their quarterly earnings tomorrow. Among them are, Adani Green, Ambuja Cement, Barbeque Nation, CAMS, Century Ply, Chambal Fertilizers and others. In the Nifty50 pack, Bharti Airtel, Adani Ports and Hero MotoCorp will declare their quarterly results.
On Monday, several listed companies announced their Q3 earnings. Tata Steel, Proctor & Gamble, SJVN, Kolte Patil Developers, Bank of Baroda and others. Expect stock specific action here.
4) RBI MPC: The three-day meeting of the Reserve Bank of India Monetary Policy Committee which began today will conclude on Wednesday. Governor Shaktikanta Das is expected to raise interest rate by 25 bps. D-Street is expected to follow the developments closely.
5) Stocks in News: Vodafone Idea joins hands with Motorola to drive 5G connectivity across 5G smartphone portfolio; Huhtamaki India declares a dividend of Rs 2 per share; Kirloskar Ferrous Industries informs exchanges about increase in total coke production capacity; Patanjali Foods shares looking at 17 per cent upside after spate of corrections: Analyst — Check target price
6) FII / DII Action: Foreign institutional investors were net sellers at Rs 1,218.14 crore while domestic institutional investors were net buyers of Indian equities at Rs 1,203.09 crore. If rates continue to increase in US, Indian markets could see a further exodus of overseas investment in search of greener pastures.
7) Bulk Deals: Over a dozen companies witnessed bulk deal action on Monday. Among them were Tracxn Technologies, SVP Global Textiles, Mold-Tek Technologies, Marshall Machines and others. Expect stock specific action in these stocks.
8) Stocks in Ban: Securities in Ban for trade on 7 February 2023:  Adani Ports.
9) Most Active Underlying

 Source: NSE
 Source: NSE
10) Commodity Markets: MCX April Gold futures were trading at Rs 56,998, up by Rs 413 or 0.73 per cent while March Silver futures were trading at Rs 67,476, down by Rs 100 or 0.15 per cent. Meanwhile, crude oil futures were trading at Rs 6,123, up by Rs 26 or 0.43. Movement in Dollar Index will remain a key in how the key commodities move.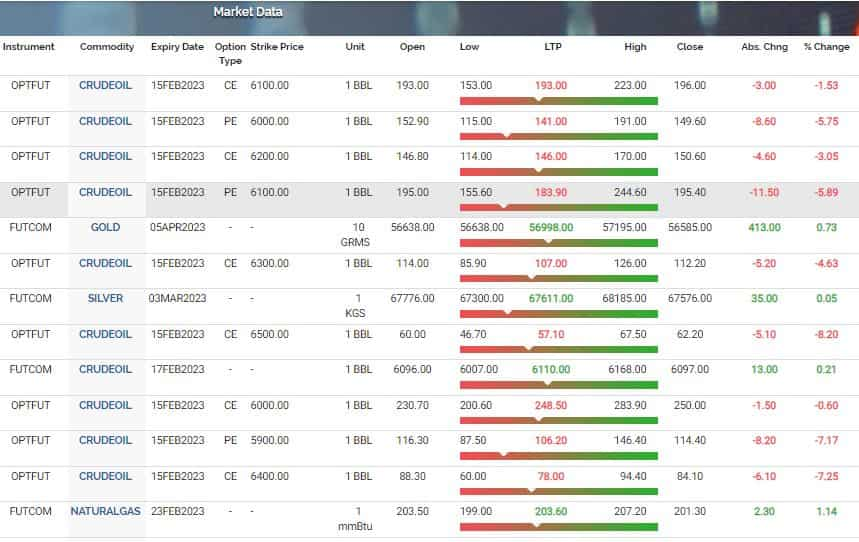 Source: MCX
Expert Take
— The Nifty opened on a negative note on February 06 & moved lower in the beginning of the session. However, the key hourly moving averages offered support on the downside & restricted further downside. Consequently, the index traded in a sideways manner as the day progressed & ultimately formed an Inside bar on the daily chart. Going ahead, 17700 & 17870 are key support & resistance respectively. The index has a potential to stretch towards the 18000 mark as long as it stays above 17700." — Gaurav Ratnaparkhi, Head of Technical Research, Sharekhan by BNP Paribas
— "The RBI MPC will view the recent inflation prints favorably. 3QFY23 CPI inflation at 6.1% is around 50 bps lower than RBI's estimate and 4QFY23 inflation is also likely to be 20-30 bps lower than RBI's estimate. We estimate inflation to average around 5.2% over
the next 12-15 months. On the other hand, domestic growth remains on a decent footing for now while expectations of a global slowdown remain uncertain. The real repo rate would be positive by around 100 bps at the current level. Global rate hike cycles are close to peaking though the central banks remain cautious.
While the MPC's decision is finely balanced between pause and a 25 bps hike, we expect the MPC to hike by a last 25 bps to push the real rate comfortably into positive. This would help the RBI to be on a prolonged pause as it assesses the lagged impact of the past rate hikes and input price movements, the evolution of the global and domestic demand conditions, and behavior of global central banks." — Suvodeep Rakshit,  Senior Economist, Kotak Institutional Equities
#BazaarAajAurKal में देखिए आज के शेयर बाजार का लेखा-जोखा और कल के बाजार का अनुमान @AnchorDeepak_ | @AnilSinghvi_

#ZeeBusiness LIVE https://t.co/o7WJhbYc8o https://t.co/5Ed7mJcxsG

— Zee Business (@ZeeBusiness) February 6, 2023
(Disclaimer: The views/suggestions/advises expressed here in this article is solely by investment experts. Zee Business suggests its readers to consult with their investment advisers before making any financial decision.)