Share:
Tesla raised prices on its Model Y vehicle in the US.
Demand is ramping up in China due to recent price cuts.
Wedbush Securities raised TSLA price target to $225.
NASDAQ is down on continued pessimism from tight labor market.
Tesla (TSLA) is not following the market lower on Monday as positive corporate news abounds for the Elon Musk-run company. Tesla has opted to raise prices on its popular Model Y vehicle in the US due to increased demand caused by a recent price cut on the same model. Tesla has also seen heavy demand emerge in China in the wake of its price cuts in December. 
Tesla stock is up 2.1% in Monday's premarket to start the week near $194, while the NASDAQ futures market is off 0.8% as continued pessimism stemming from Friday's meteoric jobs number has renewed worries that higher interest rates will stick around longer in 2023. The US jobs number has been higher than consensus for 10 straight months.
Tesla stock news: Lower prices, higher demand
Tesla began 2023 with as much as $13,000 price cuts to the Model Y in the US, depending on which configuration a consumer ordered, though most were closer to $6,000. This price cut was meant to allow buyers to compete for the $7,500 federal tax rebate for competitively-priced EVs. However, The Biden administration has altered the rules regarding crossover SUVs, so now Tesla has decided this week to cut the base level Modely Y by $1,500 and the Performance model by $1,000. This is in addition to a small $500 increase added a few weeks ago.
The price cut may not amount to much, and it comes coupled with another price cut for the Model 3 in the US. However, the market is reading this as a sign that demand for Tesla Model Ys is as strong as CEO Elon Musk said it was during the recent earnings call. In the last week of January, Musk told analysts on the Q4 earnings call that Tesla was seeing such strong demand in early January that the company could reach 2 million deliveries for the full year rather than the slated 1.8 million. Of course, this would depend on ramping up production worldwide.
That is not all. The price cuts that trickled through worldwide in December and January are seeminly causing a flood of new orders. Longtime Tesla bull Dan Ives of Wedbush Securities put out a note on Monday saying Musk was probably correct on the 2 million figure. 
"While China demand was a headwind for Tesla in 4Q with the lockdown and macro uncertainty, we are now seeing a noticeable turnaround for Chinese EV buyers favoring Tesla vs. domestic players," wrote Ives in reference to BYD (BYDDY), Nio (NIO) and Xpeng (XPEV)]. "The price cuts have swayed 3 of every 4 EV buyers in China based on our survey work in China and Tesla's unmatched ability to scale its production operations in China are meaningful to margin stability which are front and center for the Street."
Wedbush raised its price target on TSLA from $175 to $225.
Tesla stock forecast
The problem for bulls is that Tesla is already right up against resistance at $200. This is both a psychological barrier and a point of resistance best displayed on November 15 and December 1 of last year. As can be seen on the Relative Strength Index (RSI) at the lower end of the daily chart below, TSLA stock is deep into overbought territory. Bulls will almost certainly need to pull back to support at either the $180 to $182.50 pivot area or at the $167.50 level.
That last level has worked as support in the past and also is currently running into the ascending support trendline that began this rally. With TSLA stock getting carried away over the past week, a reset bounce back off the ascending trendline is probably to be expected before bulls attempt a run at the $234 level.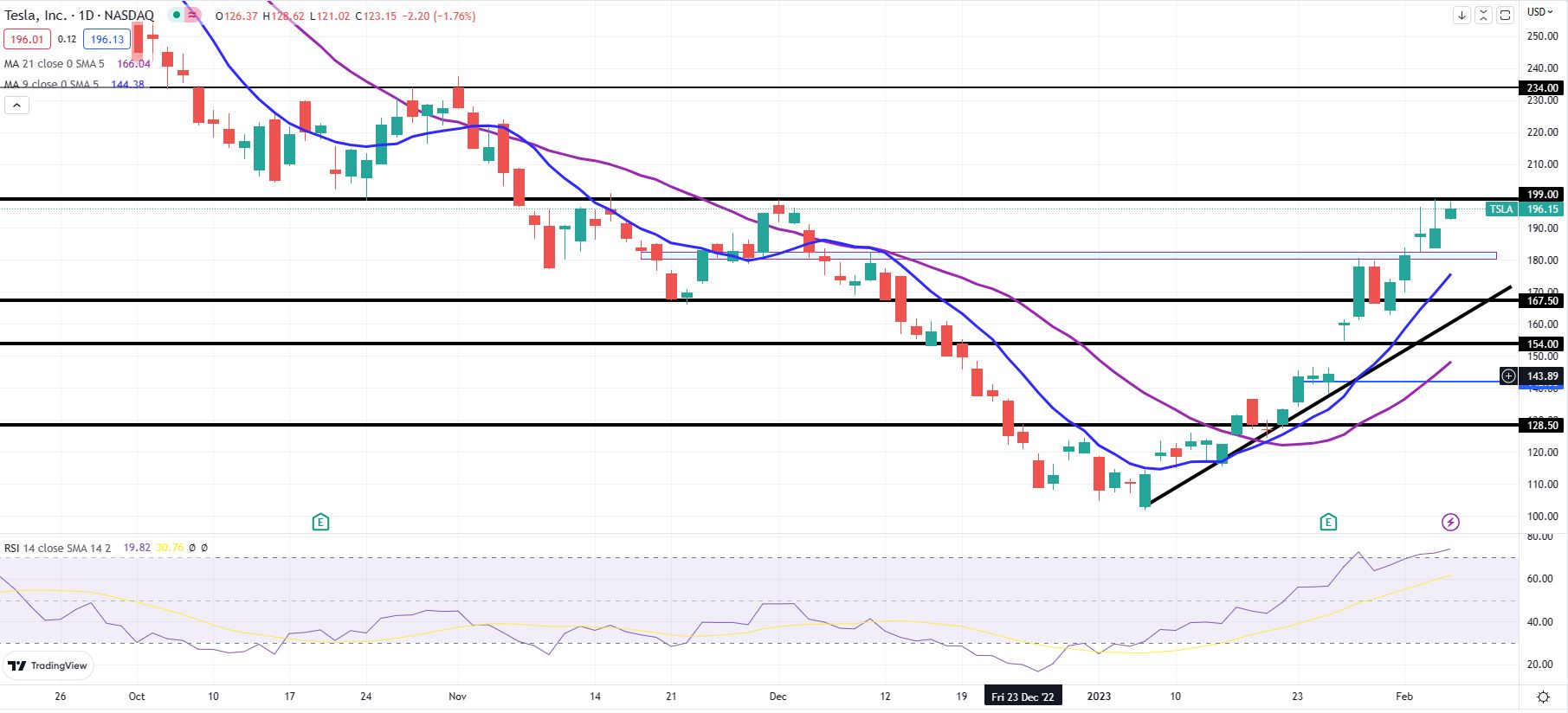 TSLA daily chart