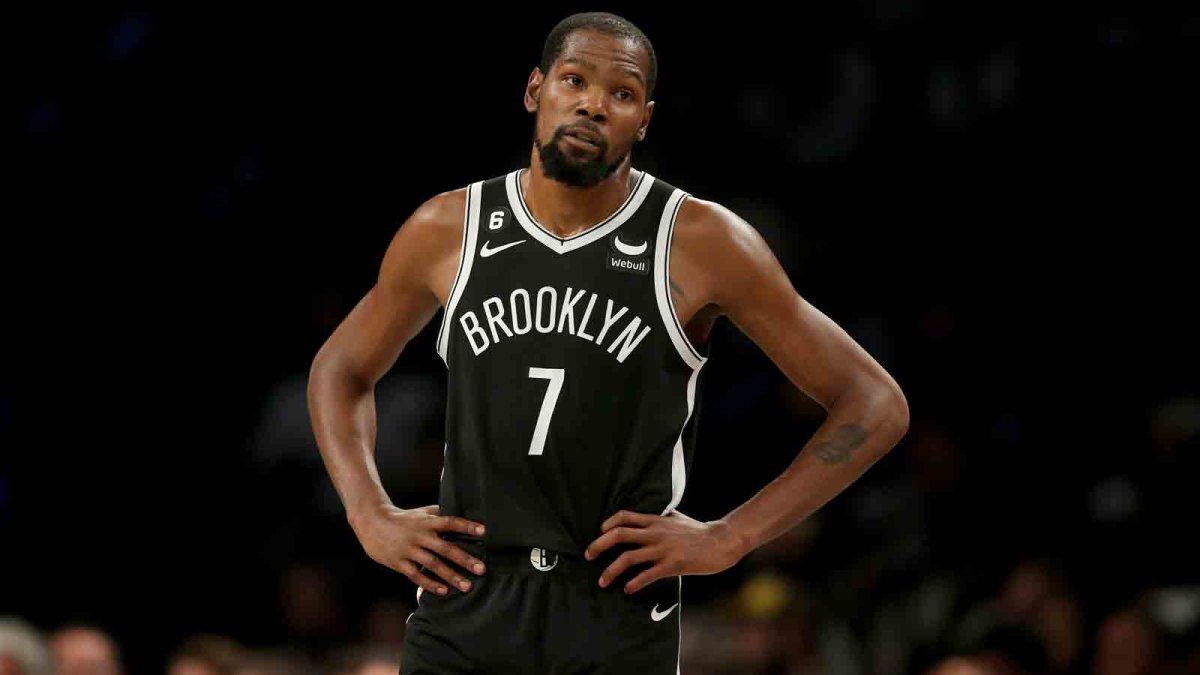 First it was Kyrie Irving to Dallas. Then came Kevin Durant to Phoenix.
The breakup in Brooklyn is rebuilding some contenders in the West.
Trade deadline day in the NBA arrived Thursday with news of a blockbuster. The Nets had agreed overnight to deal Durant to the Suns for a package that included Mikal Bridges, Cam Johnson, Jae Crowder — who later tweeted he was headed to Milwaukee — four first-round picks and additional draft compensation.
A day earlier, the Lakers agreed to send Russell Westbrook to Utah as part of a three-way deal with Utah and Minnesota that brought D'Angelo Russell back to Los Angeles.
"Just like that it's a war in the West!" Sacramento Kings guard Terence Davis II tweeted.
The Lakers stayed busy up until the deadline with a couple more moves as they try to build a contender around NBA career scoring leader LeBron James. They added another big man in Mo Bamba from the Orlando Magic for Patrick Beverley, a second-round pick and cash considerations, according to a person with knowledge of those negotiations. The Magic are not expected to keep Beverley, said the person, who spoke to The Associated Press on condition anonymity because the trade did not yet have league approval.
The deadline was 3 p.m. EST, though most of the deals won't be approved by the league office until much later; agreed-to deals were confirmed to AP on condition of anonymity because they were not yet official.
"I'll show you how wrong I was," said Cleveland president of basketball operations Koby Altman, whose team was one of few that made zero moves. "I thought it was going to be a quiet, quiet deadline. But this is the NBA, and the NBA never stops. And, it's really fragile. It's a really fragile industry, and you don't know what's going to tip one way or the other."
Phoenix could end up being more powerful than last season's squad, which won an NBA-best 64 games then flamed out with a second-round loss to Dallas. The Suns just got Devin Booker back from a groin injury that had sidelined him since Christmas and soon will add Durant to the lineup when he recovers from a sprained knee ligament. That's on top of Chris Paul and Deandre Ayton.
Phoenix has won nine of 11 and shared the fourth-best record with Dallas entering its game Thursday night in Atlanta.
The Mavericks also may be stronger after acquiring Irving to pair with Luka Doncic. Irving asked out of Brooklyn last week, frustrated by his negotiations for a contract extension, and he was headed West a few days later.
Then it was Durant, who had gone to Brooklyn with Irving in 2019.
"I just love the competition now that we can be in the same conference," Irving said.
The Lakers are still hoping they can make some noise. They acquired Russell — who began his career with the franchise — from Minnesota, and guard Malik Beasley and forward Jarred Vanderbilt from the Jazz. The deal sent Westbrook to Utah after the 2017 NBA MVP never thrived alongside James and Anthony Davis.
Minnesota got Mike Conley and Nickeil Alexander-Walker from Utah, along with three second-round picks.
The Lakers made yet another move Thursday, sending center Thomas Bryant to Denver for Davon Reed and three second-round picks. Bryant, who started 25 games and is averaging 12.1 points, could be a good backup to two-time NBA MVP Nikola Jokic.
San Antonio added more assets to its rebuilding project by trading center Jakob Poeltl back to the Toronto Raptors for Khem Birch plus a first-round pick in the 2024 draft and a pair of second-round selections.
Poeltl was one of the most-wanted centers on the market. He's averaged 12.1 points and a team-high 9.0 rebounds for the Spurs, who acquired Poeltl from the Raptors as part of the Kawhi Leonard-DeMar DeRozan trade in 2018.
The Philadelphia 76ers are set to acquire forward Jalen McDaniels from Charlotte and send forward Matisse Thybulle to Portland as part of a multi-team trade that also involves multiple draft picks.
Thybulle twice made the NBA All-Defensive second team but he has averaged just 4.4 points over four seasons with the Sixers. The 25-year-old McDaniels is averaging a career-best 10.6 points for the Hornets in his fourth season.
It was the second move in two days for the Blazers, who sent Josh Hart to the New York Knicks on Wednesday for Cam Reddish and a protected first-round draft pick.
The Hornets also made another deal, sending center Mason Plumlee to the Los Angeles Clippers for point guard Reggie Jackson and a 2028 second-round draft pick.
___
AP Basketball Writer Tim Reynolds and AP Sports Writers Dan Gelston in Philadelphia, Beth Harris in Los Angeles, Steve Reed in Charlotte, N.C. and Tom Withers in Cleveland contributed to this report.
___
AP NBA: https://apnews.com/hub/NBA and https://twitter.com/AP_Sports