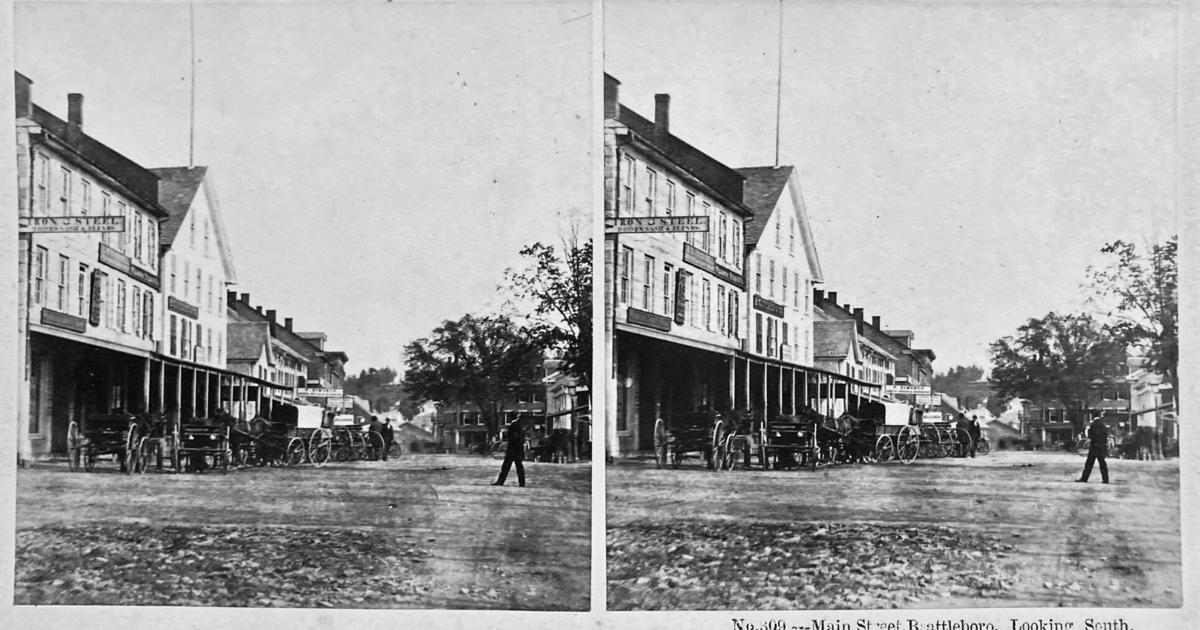 BRATTLEBORO — In 2011 a book called "A Very Fine Appearance" was published by the Vermont Historical Society. It was written by Donald Wickman and chronicled the story of local photographer George Houghton's experiences during the Civil War. There are over 100 of Houghton's well-documented wartime photographs in the beautifully organized volume.
In 1864 Houghton donated a collection of his Civil War photos to the Vermont Historical Society and they make up the bulk of the publication. The title of the book comes from a Rutland Daily Herald quote concerning the First Vermont Regiment's return to the state after serving in the South. 
"The First Regiment are still at Brattleboro, and likely to remain there for some time to come. The Regiment paraded in the streets of the village yesterday. They made a very fine appearance, and received the most flattering attentions from the citizens, large numbers of whom were out, and were lavish in their expressions of admiration…"
Looking through the book's pages brings you back in time to the 1860s. Houghton's images introduce you to the local connections Brattleboro had with the war. Main Street, the military camp, and the Civil War hospital are featured in photos, as are the many Regiments who mustered in and out of the Fairground Road site.
In 1861 Houghton traveled with the Vermont troops to Virginia. In 1862 he went with them on the Peninsula Campaign and in 1863 he was back again in Virginia. In 1864 Houghton remained in Brattleboro and took photographs of the military hospital and returning soldiers as they mustered out of service at the military camp. George H. Houghton was born in Putney, Vermont in 1824. He began working as a carpenter and, in 1846, married Emma Ward. By the time of the 1850 census they had one child, 3-year-old Fred, and lived in Rockingham.
Around 1854 Houghton began working for John L. Lovell in the Cutler Block on Brattleboro's Main Street. Lovell had operated a daguerreotype studio in town since 1852. Dageurreotypes are images that are created on silver-plated copper and are developed with a mercury solution. Lovell owned this local business from 1852 to 1856, when he sold the studio to Caleb Howe.  
During this time George Houghton went through some dramatic family upheaval. The young family had moved to Brattleboro and Emma was pregnant with their second child. A little girl was born, but soon after the birth Emma came down with consumption (tuberculosis). Emma died four months after the child's birth in February of 1855. Fred, now 8 years old, and the infant girl, also named Emma, went to live with their mother's parents in West Brattleboro. The little girl did not thrive and in September she also passed away. That fall George remarried and the newly formed family moved to Canal Street. During all of this George's employer, J.L. Lovell brought his brother into the business as a partner so George's future at the studio was in doubt. A son was born within a year but George decided to move to the Far-West with his sister's husband and son to see if a better life could be found. George's young family stayed behind in Brattleboro.
Later in life, Fred Houghton wrote a short memoir of his life and recounted these years. According to Fred, the three men traveled to Kilbourn City, Wisconsin, "right on the frontier at the end of the railroad. Father was a first class carpenter and cabinet maker. He had a shop in Kilbourn City and made sash, doors, and blinds five days a week. On Saturdays he had a gallery and made pictures for those that wanted them so the money he received from both trades gave him a living and that was all. My Uncle's family moved West the next year. In 1860 father moved back to Brattleboro and started a gallery over O.J. Pratt's store. Photographs had come then. My father was a photographer in the Civil War, associated with the Vermont troops in Virginia and made many views of Battle Fields, Camp Scenes, Officers, etc. Afterwards he went into the photography business with J.M. Gilmore. In the spring of 1866 father sold his business to Gilmore.
"That summer me and my cousin, George Bennett, and my father went to Saratoga Springs, NY. George and me ran a tintype gallery and father made pictures outdoors. I was then 19, that winter father went South for his health and I went to work in a sewing machine shop. In the spring of 1867 father bought ½ interest in a gallery in Northampton, Massachusetts known as Houghton and Knowlton. Knowlton done the studio work and father made a set of stereoscopic views of the Connecticut River scenery from Bellows Falls to Holyoke and most of them were sold on the trains. In the fall he sold out and went to Waterford, NY and bought another gallery. In the spring of 1868 father came back to Brattleboro and he was pretty hard up financially. He went to work at his trade of carpentering and I went into Estey's Organ Shop. My job played out and I went to work for my father. In September, 1868 I was 21 years old and my father and his wife separated. He took Carrie, his three year old daughter, and went to Kilbourn City, Wisconsin to be near his sister's family." Fred did not see his father again. Two years later, at the age of 46, George Houghton died. He was buried in an unmarked grave in Wisconsin.
There had been reports that the marriage was unhappy from the beginning. Despite the uncomfortable nature of the union, three children were born between 1856 and 1865. Carrie was the youngest. 
When the Civil War began, George had tried to enlist but was denied due to poor health. Some speculate that the mercury and other chemicals used to develop daguerreotypes and photographs may have shortened his life. During the Civil War years George left his family three times to travel with the troops. On his last trip he sent letters to relatives and tried to explain why he would leave his family behind. "I always was a wayward child you know and being possessed of some ambition for roving."
Letters written by relatives paint an unhappy Houghton home life. One of George's nephews visited the family and complained, "Aunt Sarah is such a cussed old sour krout bitch that they have no company" and when someone does come to visit, the children misbehave so much that no one visits a second time.
His son, Fred, reported that George did pretty well financially during the war years. However, once the war ended there was not as much interest in Houghton's photography style and George didn't have the stamina to do physical carpentry work. In Brattleboro, the C.L. Howe Photography Studio outcompeted Houghton's Photography Studio. Houghton's outdoor photographs were no longer in demand.
Between 1861 and 1864 George Houghton was a Civil War photographer. He captured images of Vermont troops and Civil War scenes that shed light on a challenging time in our country's history. The book, "A Very Fine Appearance," allows all of us to have a better understanding of how the war impacted our region and the people of Virginia. Some of the information used for this recording comes from Donald Wickman's book.