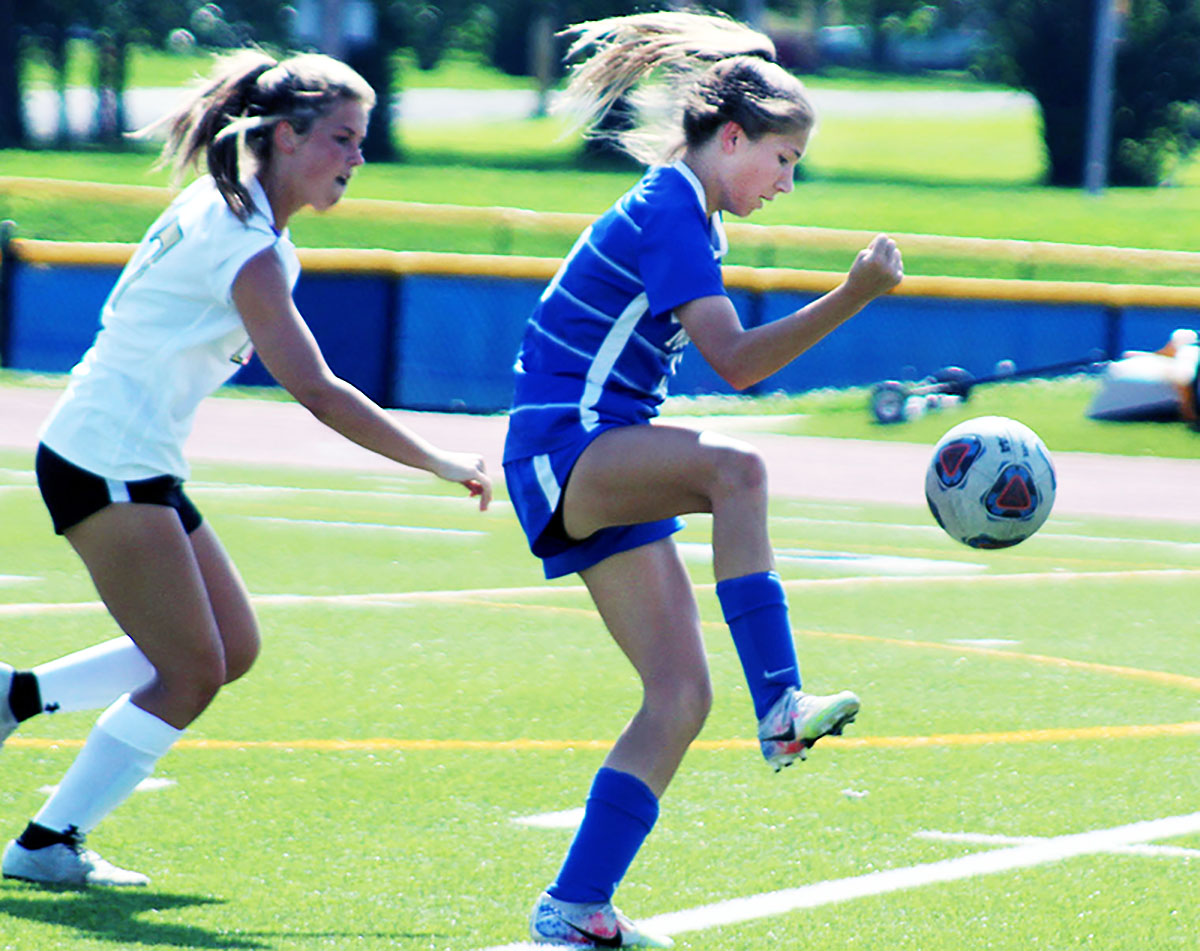 TROY – Heading into this season, Marquette soccer coach Brian Hoener was hoping for his team to tke another step up the ladder. After all, the Explorers feature a wealth of returning players from last year's 15-victory season.
Tuesday night, Ella Anselm and the Explorers delivered in their first test of 2023. They rolled past Springfield 5-0 in their season opener a a Metro Cup Showcase game at Triad.
"It's great to get our first win under our belts," Hoener said, "and to score a few goals. It was also great to defensively keep a clean sheet."
With three goals and an assist, Anselm picked up where she left off last season, when she had 27 goals and seven assists as a freshman.
Marquette's Caroline Stephan and Kylie Murray each scored a goal, Chloe Roberts had a pair of assists and Hannah Mashall had the shutout in goal.
Hoener said hard work in the preseason helped to produce dividends Tuesday against Springfield.
"The girls are working extremnely hard," he said, "and we have an experienced group, so we've been able to jump right unto things."
The 2022 season ended in abrupt, heartbreaking fashion with an overtime defeat to Sacred Heart-Griffin in the semifinals of the Quincy Notre Dame Class 1A Sectional. It was a game that was suspended by rain after regulations, then moved the next day to Illinois College in Jacksonville for the remaining time. SHG won with a goal late in the second overtime.
"The last loss of the season is always tough," Hoener said, "no matter what the circumstances are."
SHG went on to lose to Quincy Notre Dame 3-2 in the sectional final. The QND Raiders then went on to put together a string of three consecutive 1-0 victories for their fourth state championship.
"That showed how far our team came during the season," Hoener said, "and how close we were at the end of the season.
"We have a lot of girls back from last year's team that got some really good experience from some very important and tight games, so we're hoping to build off that."
Fast forward to Tuesday night at Triad. The Explorers jumped out to a 3-0 halftime lead and put the clamps on the Senators defensively in the processs.
Marquette will play its second game of the Metro Cup Showcase – and of the season – at 5:45 p.m. on Friday at Gordon Moore Park against Marion. In the day's second game at Gordon Moore Park, Alton High will face Waterloo Gibault.
Saturday at 3 p.m. at Mascoutah High School, Marquette will face Highland in its third Metro Cup Showcase game.
The Explorers will play host to Columbia at 6 p.m. next Tuesday, March 21. It is part of a rigoruous schedule for the Explorers that will include QND, Duchesne, Alton High, Granite City, Civic Memorial and Belleville East.
"We challenege ourslef again with a very difficult schedule with the lieks of Quincy Notre Dame, althjoff, columbia and alton," Hoener said. "Those are all teams that I think will be among the top teams in our area."