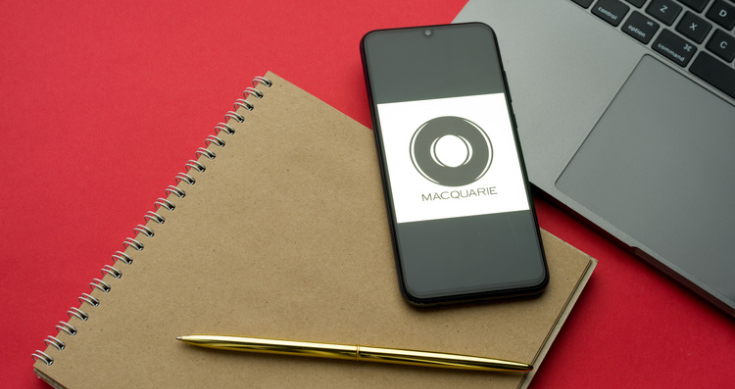 Investors reacted cautiously to Tuesday's third quarter earnings update (that's the one the investment bank issues without the actual figures) from Macquarie Group.
Macquarie reported a substantially higher profit contribution from its commodities business in the period, which helped offset weaknesses elsewhere in its portfolio – especially funds management.
That news saw the shares rise to a high of $193.19 and touch a low of $189.75 before settling at $190.33, up just 0.7%. That at least was better than the 0.46% dip in the wider market, but the shares were trending lower at the close.
Macquarie said in the now usual February update that year-to-date net profit after tax rose slightly on the record previous year as its top profit generating Commodities and Global Markets (CGM) business benefited from an unusually volatile market, particularly in global gas & power and oil products (Thanks Vladimir Putin and the impact his invasion of Ukraine has had on energy and commodity prices).
Macquarie CEO Shemara Wikramanayake said in the update "varied market conditions have resulted in a good quarter".
But Macquarie was circumspect about the outlook saying it was maintaining a cautious stance to short-term outlook, with a "conservative approach to capital, funding and liquidity" in response to the current environment.
It said it sees a substantial decline in transaction activity in fiscal 2023, which, combined with lower revenue from asset realisations, could impact its market-facing Capital business.
"Investment-related income expected to be broadly in line with FY22 with increased revenue from growth in the Principal Finance credit portfolio, offset by lower revenue from asset realisations. No material realisations are expected in the March 2023 quarter (4Q23)," Macquarie said in Tuesday's announcement.
Combined quarterly net profit contribution of Macquarie's annuity-style businesses was substantially down on the prior period due to the absence of larger green energy sector asset realisations in asset management.
In contrast, Macquarie said its commodities and global markets division had posted "exceptionally strong results," mainly because it benefited from "unusually volatile market conditions" in the gas, electricity and oil markets.
Macquarie said its banking and financial services division, which houses its domestic retail bank, had posted "continued growth," with deposits rising 8% to $125.7 billion, and mortgages rising 4% to $105.4 billion.
Macquarie said it was keeping a close watch on loan performance and its provisioning.
In the investment banking unit Macquarie Capital, fee revenue was "significantly down" compared to the December quarter of 2021.
That was due to an absence of deals and it was an experience shared with the likes of Goldman Sachs on Wall Street and other banks.
Macquarie will report its 2022-23 results in May.